Welcome to the official website of Changsha Xiangneng Oil Filter Machine Manufacturing Co., Ltd.!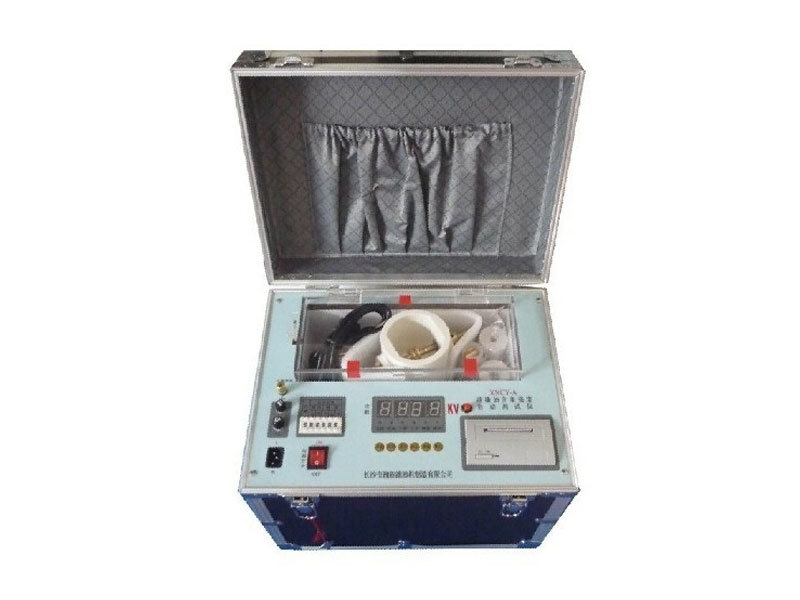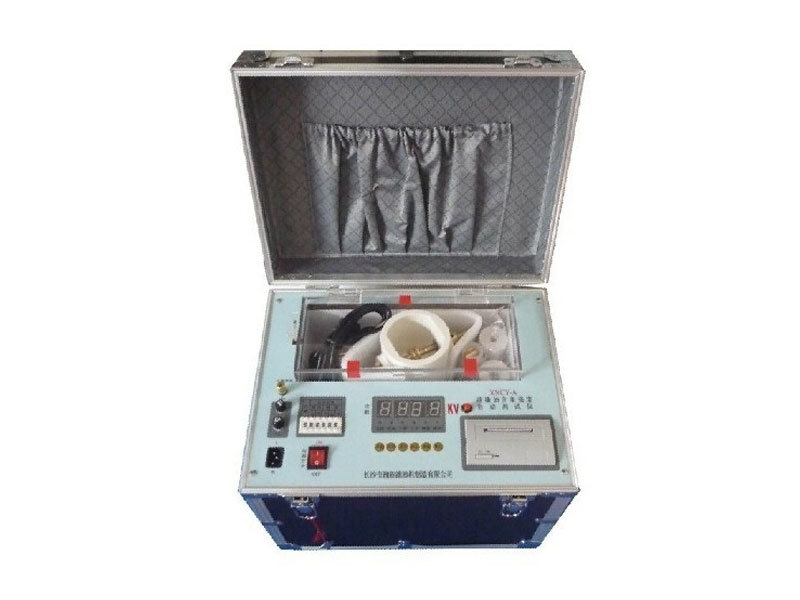 Insulating oil withstand voltage tester
---
The breakdown voltage tester is also known as the automatic dielectric strength tester of insulating oil. HYG-A Automatic Dielectric Strength Tester for Insulating Oil is a fully automatic instrument developed in accordance with the requirements of International IEC-156 and International GB507-2002 Dielectric Strength Measurement Method for Insulating Oil, and in combination with the feedback from users. The instrument adopts the method of single chip microcomputer as the leading device, setting first and then starting up for testing. The whole process is automatically controlled by the microcomputer, which is easy to operate, convenient and applicable.
---
---

---
Introduction:
The breakdown voltage tester is also known as the automatic dielectric strength tester of insulating oil
HYG-A automatic dielectric strength tester for insulating oil is based on IEC-156 and GB507-2002
It is required to develop a fully automatic instrument based on the feedback of users
The instrument is dominated by the single chip microcomputer, and the method of setting first and then starting test is adopted. The whole process is automatically controlled by the microcomputer, which is easy to operate, convenient and applicable
Purpose and Characteristics:
This instrument is suitable for testing the dielectric strength of various insulating oils. Its main performance characteristics:
1. The instrument is equipped with an automatic detection function. If the machine is started, it will automatically enter the reset state to return the voltage regulator to zero
2. The micro TPU-A panel printer is used for automatic printing and output
3. According to the user's needs, the number of tests, mixing, standing time, voice control and light control reminders can be changed for continuous printing and non printing
4. The instrument adopts automatic magnetic vibrator to stir to eliminate uneven oil samples and bubbles
Technical Specifications:
Model

Working power supply

Measuring range

Current

Measurement accuracy

Voltage regulating speed

Scheduled settings

Ambient temperature

Relative humidity

Oil cup clearance

Weight

Overall dimensions

Times

Mixing time

Quiet time

Long

Width

High

Units

AC

KV

ma

KV/S

times

SEC

SEC

℃

%

mm

kg

mm

mm

mm

YJJ-1

220V± 10%

50Hz± 5%

0-80

10.5

1.5%

2.5KV± 10%

1-9

0-99

0-639

0-35℃

≤ 75

2.5

30

415

315

315
Hotline: 13607489711 (WeChat)
---
---
CLIENT MESSAGES
WRITE A MESSAGE TO US
---