Welcome to the official website of Changsha Xiangneng Oil Filter Machine Manufacturing Co., Ltd.!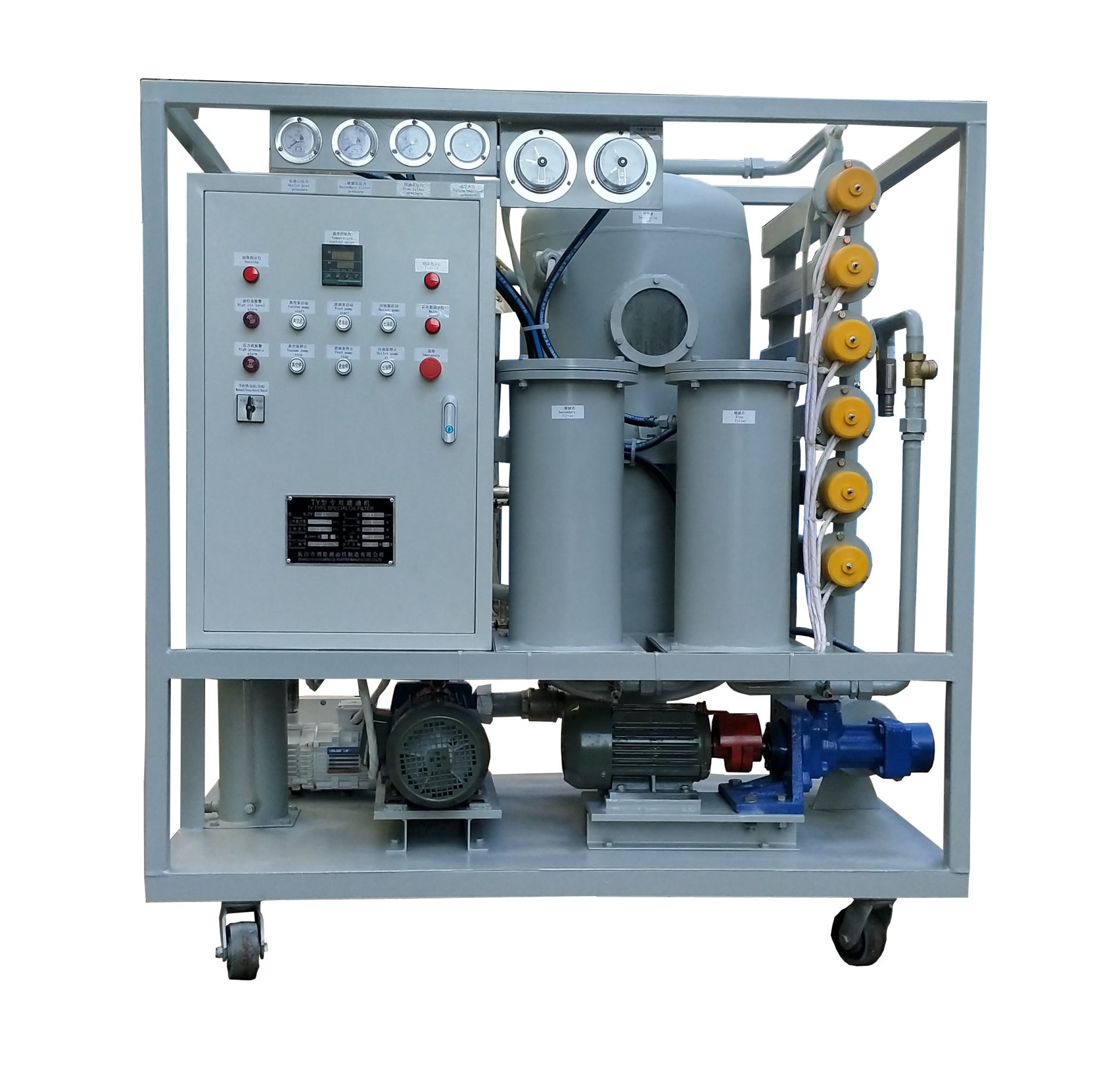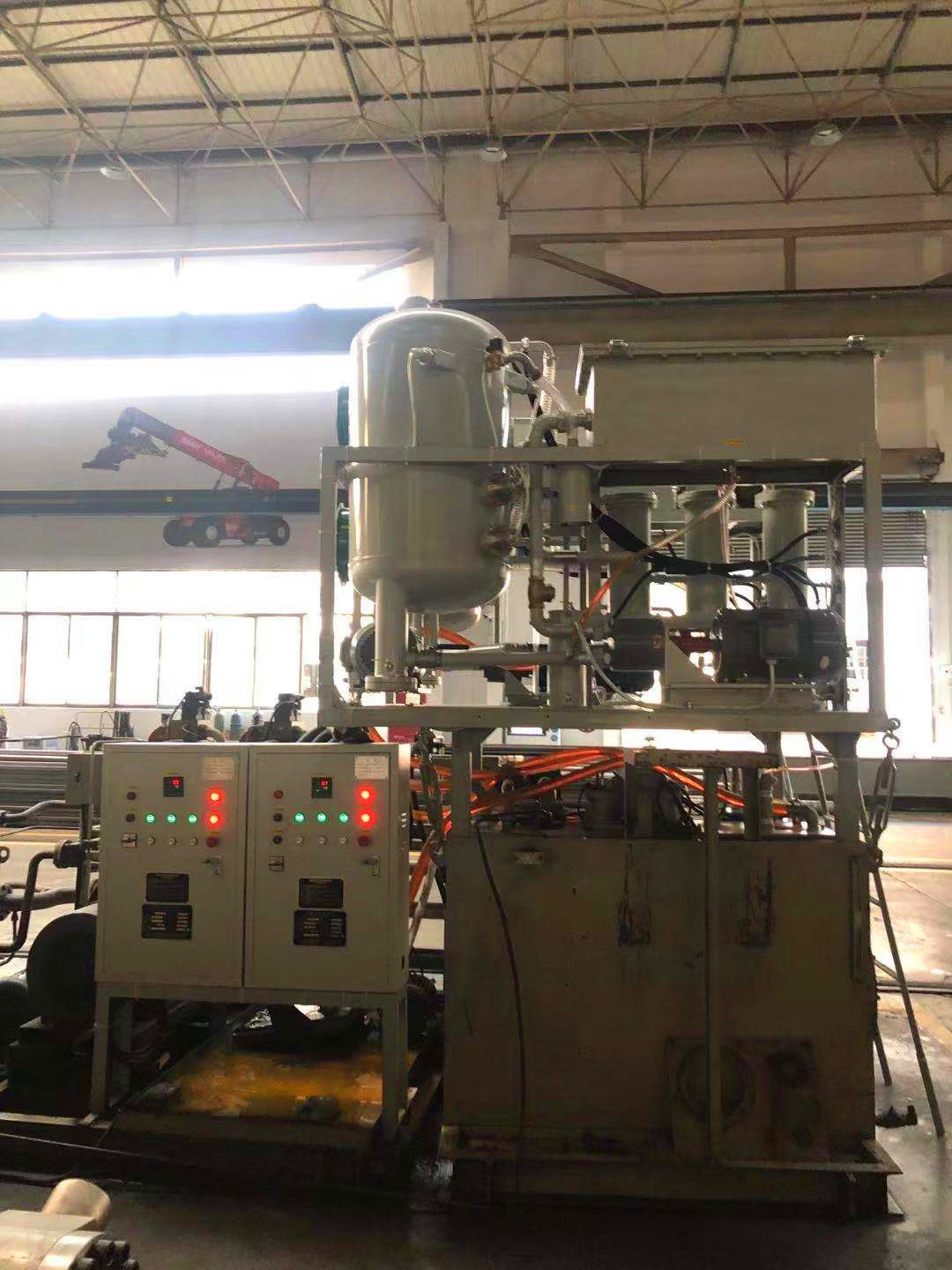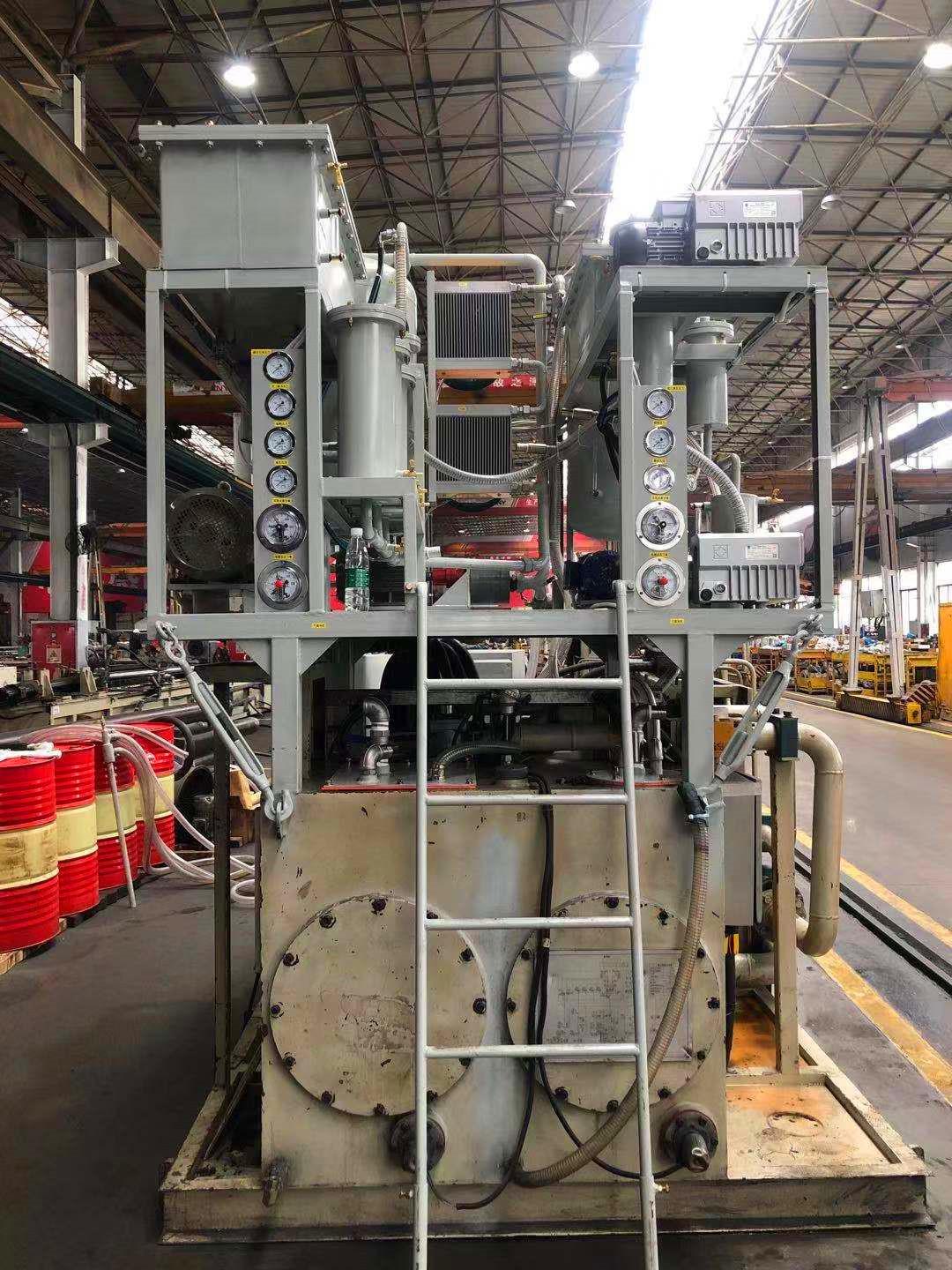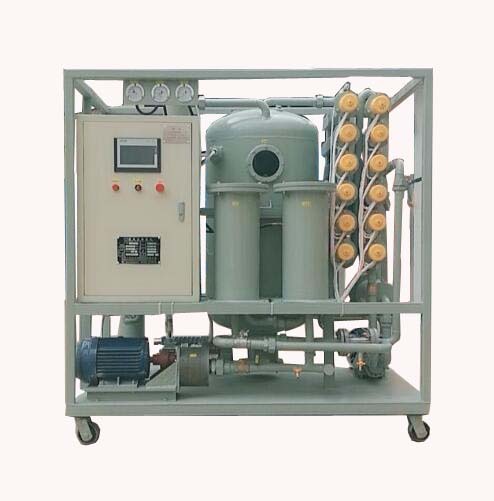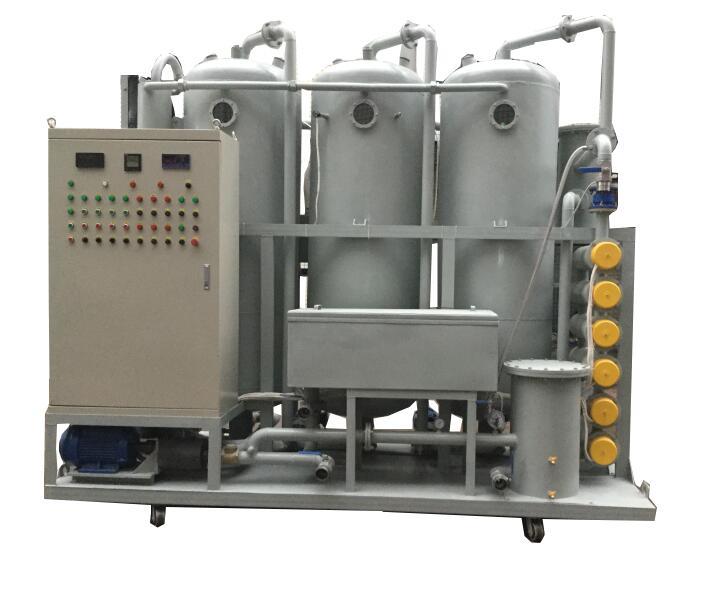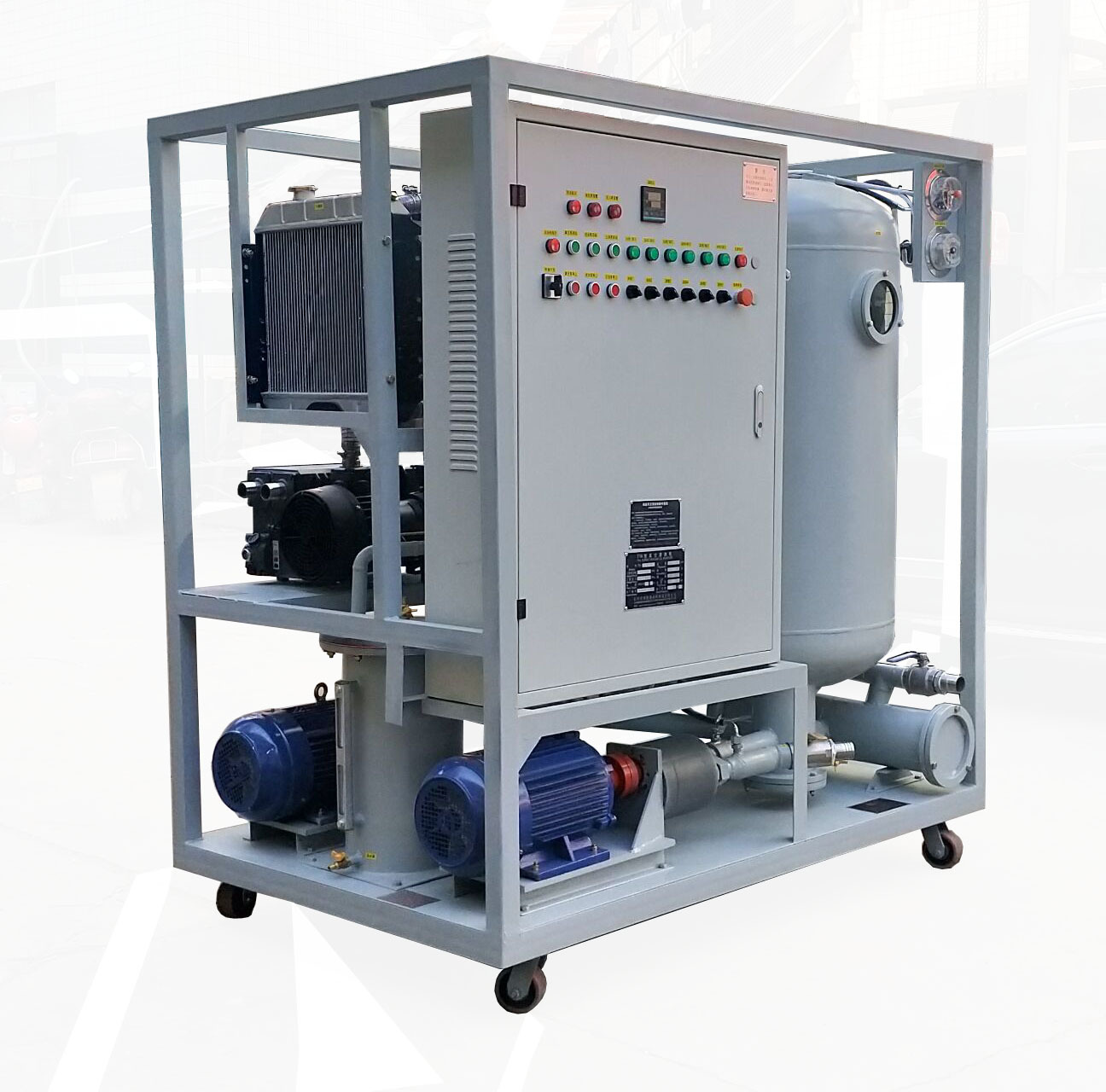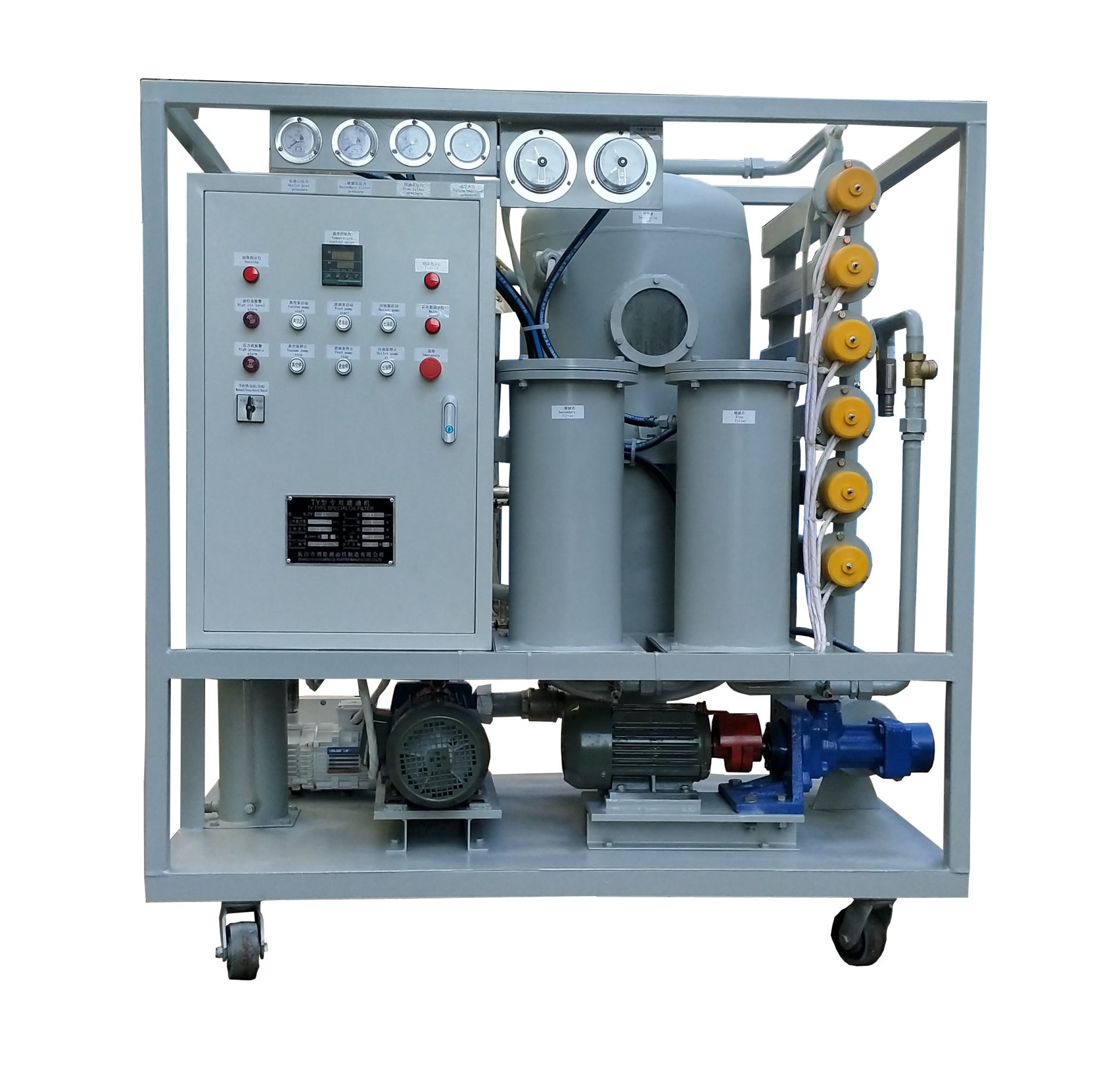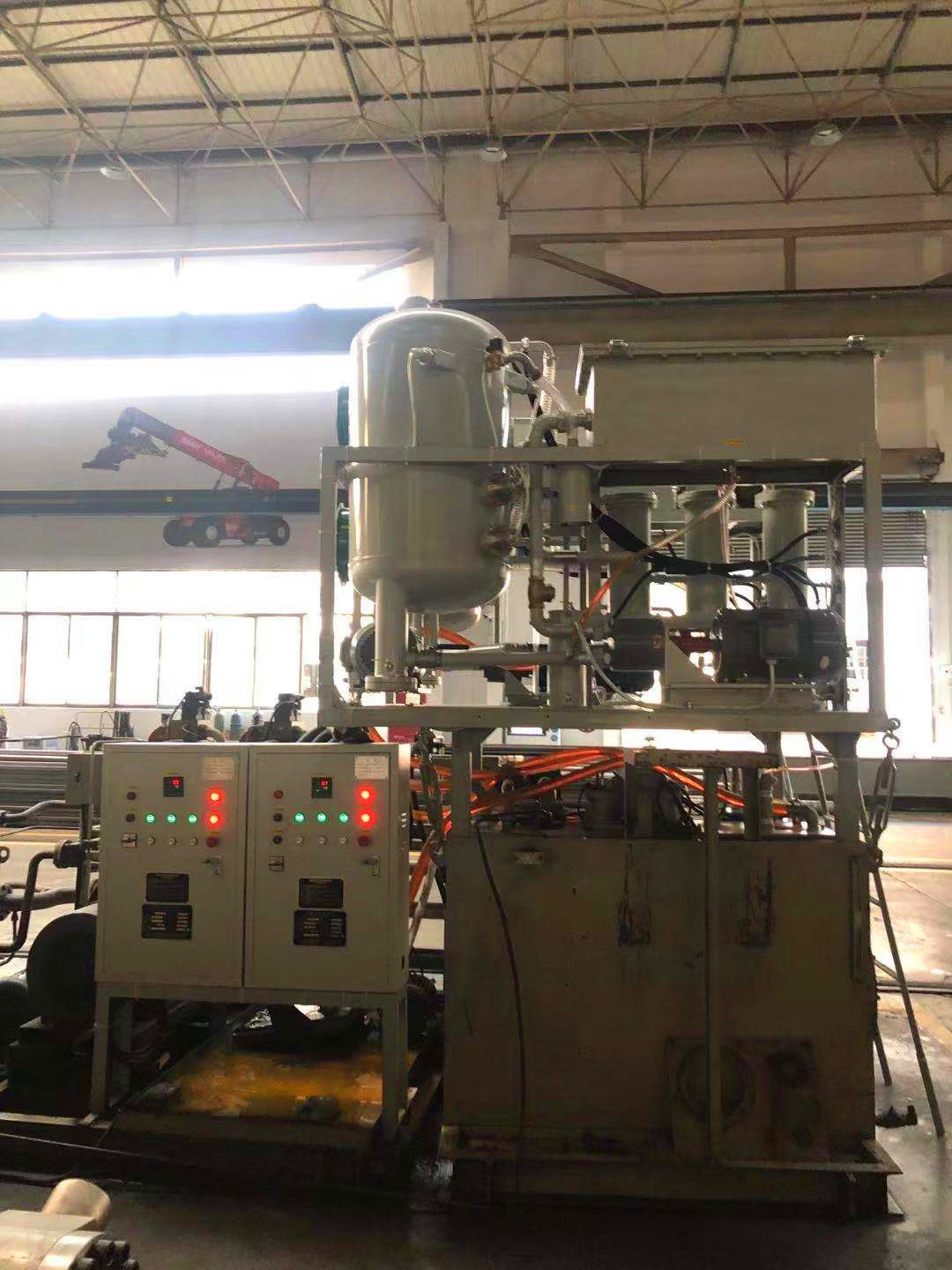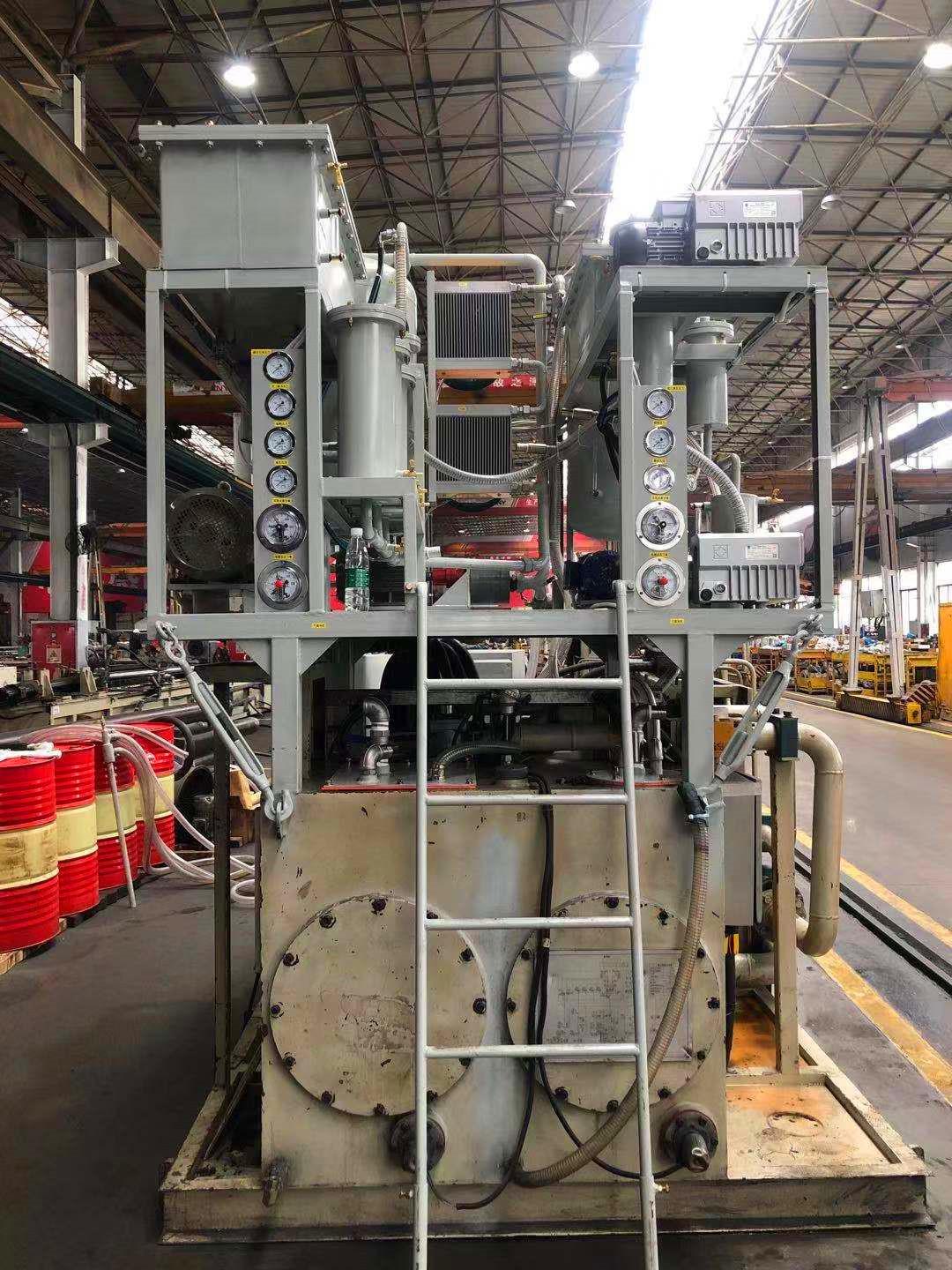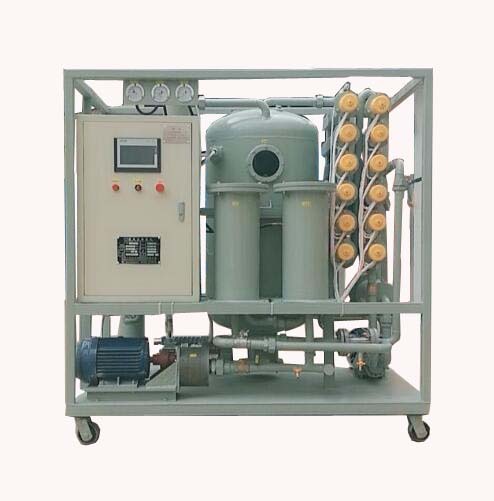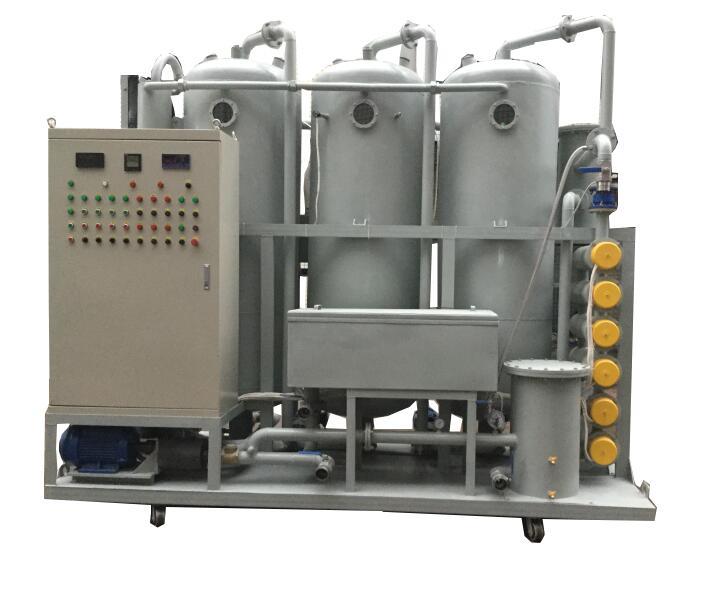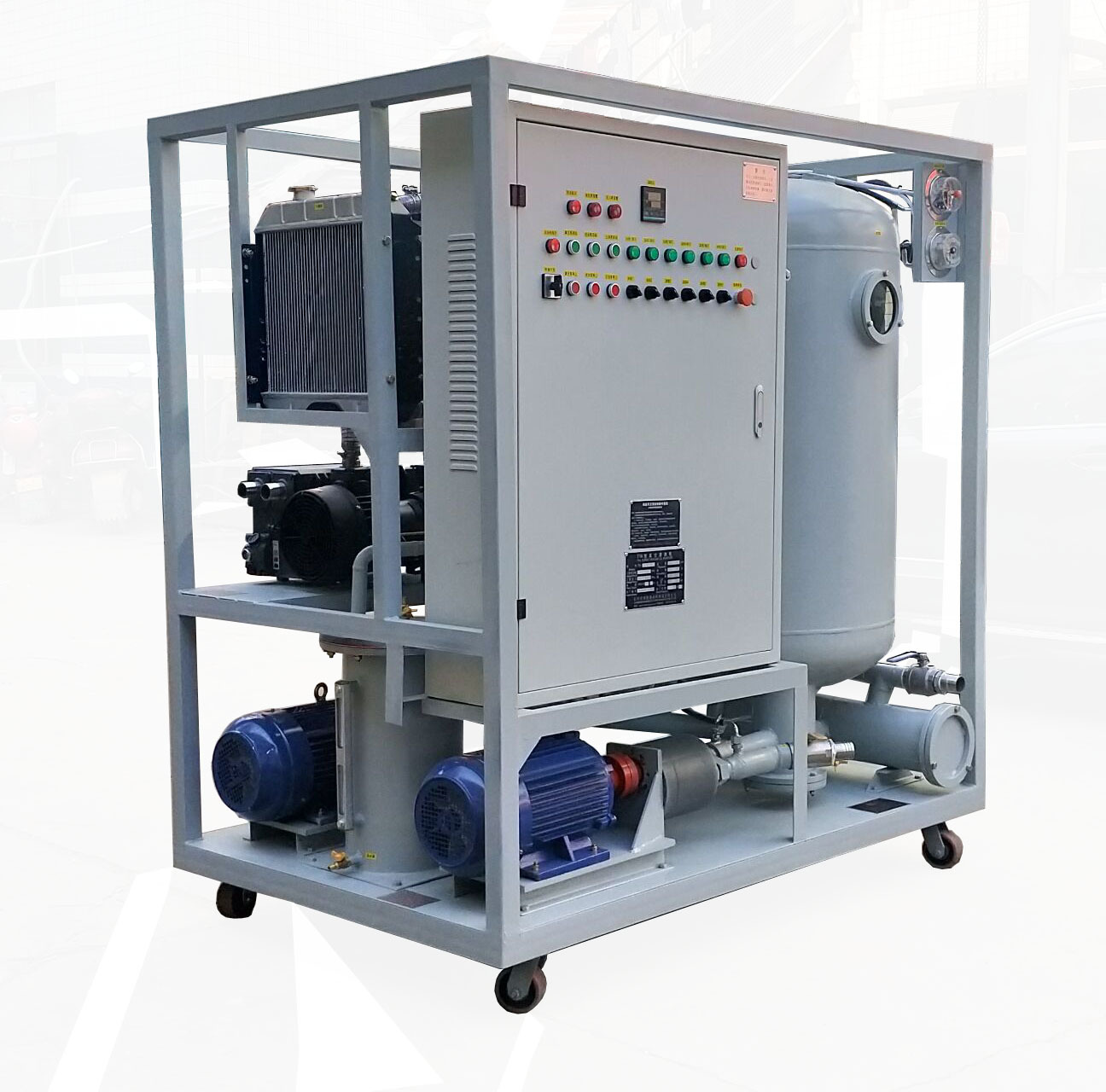 TYA series hydraulic oil vacuum filter
---
The vacuum oil purifier is designed according to the principle of different boiling points of water and oil. It consists of vacuum heating tank, fine filter, condenser, primary filter, water tank, vacuum pump, oil drain pump and electrical cabinet. The vacuum pump draws out the air in the vacuum tank to form a vacuum. Under the action of atmospheric pressure, the external oil enters the primary filter through the inlet pipe and the inlet pipe to remove larger particles, and then enters the heating tank. The oil heated to 40~75 ℃ passes through the automatic oil drift valve, which automatically controls the balance of oil entering the vacuum tank. The heated oil is separated into a semi mist by the rapid rotation of the spray wing, and the water in the oil rapidly evaporates into steam and is continuously sucked into the condenser by the vacuum pump. The water vapor entering the condenser is cooled and then returned to the original water for discharge. The oil in the vacuum heating tank is discharged into the fine filter by the oil drain pump to filter out the particulate impurities through the oil filter paper or filter element, thus completing the whole process of the vacuum oil filter to quickly remove the impurities, water and gas in the oil, so that the clean oil is discharged from the oil outlet.
---
---

---
Purpose
1. It is used for regeneration of unqualified hydraulic oil, refrigeration oil, gear oil, anti-wear hydraulic oil and other high-precision lubricating oils
2. It is used to purify lubricating oils such as machine oil, cooling oil, gasoline engine oil, diesel engine oil, heat treatment oil, etc. in machinery, metallurgy, mining, petroleum, chemical industry, electric power, transportation, railway and other fields
3. It is used to filter water, impurities, volatile substances (such as ammonia) and other harmful components in the oil to ensure the normal operation of the hydraulic system, power system and lubrication system
Technical Features
1. It has strong ability to filter impurities. Large area and deep precision filter material can remove fine particles in oil, and permanent magnetic filter is equipped to filter out fine impurities containing iron
2. The unique degassing and dehydration system adopts three-dimensional evaporation technology and multi-level oil-water separation technology to quickly separate water and gas from oil
3. The heating system adopts optimized pipeline design to ensure uniform heating and stable oil temperature
4. Advanced automatic constant temperature control, automatic liquid level control, automatic defoaming control, automatic pressure protection and excellent configuration ensure the high-performance operation of the equipment
5. On line oil filtering, unmanned operation is available, and the operation status is displayed by the indicator light
6. The differential pressure automatic backwashing system is adopted to save complicated manual removal and washing
User Optional Configuration
1. PLC intelligent control, touch screen operation and dynamic display can be selected according to the needs of users
2. The main power components, filter equipment and electrical components can be imported products of high quality to improve the performance of the equipment
3. Optional flowmeter with accumulation function
4. According to the safety environment of the site, BT or CT explosion-proof can be selected
User selectable complete machine structure
1. The whole machine structure can be made into mobile and fixed type
2. It can be made into fully closed type, canopy type, canvas tent, and open type
3. The color of the equipment can be selected as required
Technical parameters
Project

Parameter name

Units

TYA-30

TYA-50

TYA-100

TYA-150

TYA-200

TYA-300

Devices
Technology
Indicators

Traffic

L/H

1800

3000

6000

9000

12000

18000

Working vacuum

MPa

-0.06~-0.099

Working pressure

MPa

≦0.5

Constant temperature control range

℃

20~80

Power

V

380V/50HZ (export equipment according to user needs)

Working noise

dB(A)

≦78

Heating power

KW

15

30

60

90

120

180

Total power

KW

18

35

66

98

135

198

Inlet and outlet pipe diameters

mm

25

32

40

50

50

65

Equipment weight

kg

350

530

720

800

1100

1250

Shape
Dimensions

Long

mm

1300

1500

1600

1700

1900

2000

Width

mm

800

950

1150

1250

1300

1400

High

mm

1300

1500

1600

1750

1850

2000

Oil level

After treatment

Indicators

Water content in oil

ppm

≦100(GB/T7600)

Mechanical impurities

%

None

Demulsification

min

≦15(GB/T7305)

Cleanliness

level

≦6(NAS1638)
※ The overall dimensions and weight of the equipment are for reference only. With the continuous development of the product, the actual object shall prevail
Hotline: 13607489711 (WeChat)
Working principle of lubricating oil vacuum filter
The vacuum oil purifier is designed according to the principle of different boiling points of water and oil. It consists of vacuum heating tank, fine filter, condenser, primary filter, water tank, vacuum pump, oil drain pump and electrical cabinet. The vacuum pump draws out the air in the vacuum tank to form a vacuum. Under the action of atmospheric pressure, the external oil enters the primary filter through the inlet pipe and the inlet pipe to remove larger particles, and then enters the heating tank. The oil heated to 40~75 ℃ passes through the automatic oil drift valve, which automatically controls the balance of oil entering the vacuum tank. The heated oil is separated into a semi mist by the rapid rotation of the spray wing, and the water in the oil rapidly evaporates into steam and is continuously sucked into the condenser by the vacuum pump. The water vapor entering the condenser is cooled and then returned to the original water for discharge. The oil in the vacuum heating tank is discharged into the fine filter by the oil drain pump to filter out the particulate impurities through the oil filter paper or filter element, thus completing the whole process of the vacuum oil filter to quickly remove the impurities, water and gas in the oil, so that the clean oil is discharged from the oil outlet
---
---
CLIENT MESSAGES
WRITE A MESSAGE TO US
---